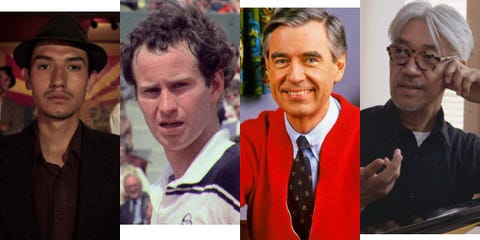 .
Especially in our current cultural and political climate, truth is often crazier, scarier and more uplifting than fiction – which is why it's no surprise that 2018 was a banner year for non-fiction cinema. Whether investigating present and past tragedies and wrongs, or celebrating notable personalities and their stirring stories of trauma and perseverance, these diverse films capture reality in all its harrowing and euphoric intricacy. Utilizing formal techniques that range from the straightforward to the eccentric, they train a rigorous eye on the complex nature of life, unearthing and confronting bedrock truths in the process. As valuable as the blockbusters that dominate the multiplex, these are our picks for the best documentaries of the year.
Advertisement – Continue Reading Below
10
Won't You Be My Neighbor?
Fred Rogers was beloved by millions for his seminal PBS series Mister Rogers' Neighborhood, and Morgan Neville's documentary pays loving respect to his decades-long work entertaining­—and speaking honestly to­—American children. Eschewing a typical biopic form, Neville's film trains its attention on Rogers's core values of honesty and decency, which were rooted in his Christian faith. Whether confronting feelings of doubt, insecurity, grief (including over national tragedies like the Space Shuttle Challenger disaster or 9/11), or tolerance (most notably, via a foot-washing sequence with Officer Clemmons that spoke to then-current debates over swimming-pool integration), Rogers designed his show to impart the noble ideals that governed his own life, and which he rightfully believed were crucial to pre-adolescents' development. The result is a heartwarming glorification of goodness, replete with a congressional hearing sequence­—in which Rogers' oration convinces Rhode Island senator John Pastore to give the public network $20 million­—that's so astonishingly inspiring, it wouldn't be believable if it weren't true
9
Ryuichi Sakamoto: Coda
The impermanence of individual life, of the Earth, and of music are all central to Ryuichi Sakamoto: Coda, Stephen Nomura Schible's portrait of the legendary composer, famed for both his groundbreaking early electronica work and his scores for movies such as Merry Christmas Mr. Lawrence and The Last Emperor (for which he won an Oscar). A free-flowing documentary of warmth and contemplative profundity, the film finds Sakamoto grappling with his own mortality (thanks to stage-three throat cancer), ruminating on his decades-long environmental activism, and expounding on his fondness for the oeuvre of Andrei Tarkovsky. Whether he's discussing Paul Bowles's cameo in The Sheltering Sky or the melancholia of Bach, protesting Japanese nuclear energy, or visiting the North Pole, Sakamoto is a charming, thoughtful figure gripped by sadness over death and human (self-)destructiveness. As demonstrated by his wish for an instrument whose sound would last forever, he's an artist in search of the timeless­—something achieved, it's clear, by his distinctive, unforgettable compositions
8
Studio 54
There have been prior movies about Studio 54, but none as definitive as Matt Tyrnauer's aptly titled Studio 54, which­—bolstered by extensive interviews with co-founder Ian Schrager­—depicts the famed New York City establishment in all its unique, flamboyant, excessive, culture-altering glory. From 1977-1979, Studio 54 burned more brightly than any other nightclub in American history, blazing a hedonistic trail that took the city (and country) by storm, in the process rewriting any number of social and sexual norms. Tyrnauer captures that excitement while also detailing Schrager and partner Steve Rubell's reasons for creating it in the first place, the logistics of its operation, its role in mainstreaming gay culture, its celebrity patrons, and the criminal mistakes that led to its demise. At once welcoming and exclusive, the disco-era mecca was a singular hotspot, and this exhilarating study of its rise and fall pays tribute to both the day-to-day reality of its existence, and the myths that continue to surround it.
7
Cielo
Cielo is fascinated by the sky, particularly when seen from Chile's Atacama Desert, where an absence of pollution and artificial light means that one can fully bask in the twinkling, radiant splendor of the universe. Alison McAlpine's documentary stares up at that firmament with awe-struck wonder, via a variety of time-lapse tableaus in which the heavens rotate while the arid Earth below turns. The director's narrated comments and questions articulate her own fascination with looking upwards, and her interviews with the disparate people who inhabit this Chilean land­—algae farmers who use nets to fish in the moonlight; astronomers and astrophysicists who operate enormous telescopes to investigate the great beyond; a storyteller with a deep connection to this region­—convey the sky's connection to our feelings about ourselves, the Earth, God, family and history. Also marked by gorgeous organic-special-effects sequences of bursting stars, it's a cinematic rumination on the majesty of everything that surrounds us.
6
John McEnroe: In the Realm of Perfection
Hypnotic, amusing, incisive, and unconventional, writer-director Julien Faraut's John McEnroe: In the Realm of Perfection is a fascinating cine-essay about the famed American tennis player. Culled from hundreds of hours of stunning 16mm footage shot by Gil de Kermadec­—most of it trained exclusively on McEnroe on the court, and often in slow-motion­—the documentary is, in one sense, a meditative study of McEnroe's mesmerizing physicality. Faraut, however, goes many steps further, marrying his game footage to quaint instructional videos and narration from, among others, a clinical psychologist who delves into McEnroe's unique skill at using anger to his advantage. In the comments of Cahiers du Cinéma film critic Serge Daney, as well as sequences that address Kermadec's technical efforts to record this material, issues of movie representation and performance rise to the fore. By its thrilling conclusion at 1984's French Open finals (which pitted McEnroe against Ivan Lendl), it's long since transformed into a persuasive dissertation on the kinship between sport and cinema­—and an argument for McEnroe as both legendary actor and director
5
Minding the Gap
For three teenage boys in unemployment-wracked Rockford, Illinois, skateboarding is a means of fleeing adulthood and escaping volatile home lives. Bing Liu's documentary about himself and his two friends, Zack and Keire, depicts their arduous maturation process in intimate (and autobiographical) terms, with Bing shooting his mates riding through the city, toiling at menial jobs, and dealing with highly combustible family circumstances—especially in the case of Zack, who's about to have an infant son with his on-again, off-again girlfriend Nina. With deep empathy, the film investigates the myriad ways domestic abuse scars adolescents, with domineering father figures eventually fingered as the culprits for this trio's­—and community's­—pervasive problems. Part confessional home movie, part socio-economic investigation, Minding the Gap exposes the difficulties of growing up in an environment that only offers kids awful male role models. At the same time, it honors the liberating euphoria of setting one's problems aside, however briefly, to hop on a skateboard and coast down parking garage ramps and empty streets
4
Dead Souls
There's no denying that Dead Souls' eight-hour and sixteen-minute runtime makes it something of an arduous cinematic experience. Still, Wang Bing's epic documentary is a vital work of remembrance, giving extended voice to some of the men who survived communist China's re-education camps­—in particular, those at Jiabiangou and Mingshui­—from 1958 to 1961. Labeled as "rightists" (for reasons never explained to them), and then forced to toil on arid farms until they reached the brink of death from starvation and hunger (which killed most), these individuals recounts tales that­—replete with anecdotes about cannibalism­—are nothing short of bone-chilling. As with Claude Lanzmann's Shoah, Bing's film refuses to let historical atrocities simply fade away; in patient conversations with its now-elderly, largely male subjects, it shines a spotlight on Mao's monstrous method of silencing Party (and regime) critics. Be it their traumatized monologues or a recent trek through Mingshui, where human bones still litter the land, Dead Souls illustrates how the past remains present.
3
Bisbee '17
Bisbee, Arizona is now a tiny enclave of artists and iconoclasts, but at the turn of the 20th century, it was best known for its wealth of copper­—and its most notorious incident. Robert Greene's audacious Bisbee '17 employs fiction and non-fiction modes to recount the calamitous Bisbee Deportation of July 12, 1917, in which a local sheriff and a 2,000-man posse rounded up striking German and Mexican miners, stuffed them into cattle cars, and drove them out to the New Mexico desert, where they were unceremoniously abandoned. Weaving together archival material, new interviews with relatives of those who stayed in Bisbee, and staged recreations that are sometimes enhanced by musical numbers, Greene crafts a multifaceted treatise on the nature of memory and the scars of intolerance. Its formal dissonance in tune with its story about a community fractured by its ugly past, it's an ever-relevant history lesson about immigration, race, and power that comes across like a disturbing ghost story.
2
Filmworker
Even geniuses need help, and fortunately for Stanley Kubrick, he had Leon Vitali, an accomplished artist in his own right whose work alongside the 2001: A Space Odyssey auteur­—first as an actor in Barry Lyndon, then as his right-hand man for The Shining, Full Metal Jacket, and Eyes Wide Shut­—is justly lionized by Tony Zierra's documentary. Using a wealth of archival material as well as new interviews with the now-down-on-his-luck Vitali and Kubrick collaborators (Matthew Modine, Ryan O'Neal, R. Lee Ermey, Danny Lloyd), Zierra paints a vivid portrait of extreme commitment, as Vitali's dedication to his illustrious partner's vision damaged both his health and his relationship with his family. Filmworker is an illuminating dissection of an essential behind-the-scenes collaboration, and a case study of the identity-negating self-destructiveness of unwavering devotion. Moreover, it's a nuanced depiction of the less-than-glamorous work that goes into classic art­—and, in the end, a deserved tribute to the invaluable individual behind the legend.
1
24 Frames
Neither a fictional film nor, strictly speaking, a traditional documentary, late Iranian master Abbas Kiarostami's 24 Frames is an experimental endeavor that plumbs the nature of non-fiction imagery­—and, in doing so, proves a haunting meditation on mortality from a filmmaker who knew this would be his final work. Kiarostami's unique effort features twenty-four still images, all of which (save for the first, Bruegel's 1565 painting The Hunters in the Snow) he took himself, and which come to animated life through computer-generated means. There's no straightforward drama to any of these scenes, each of which lasts approximately four-and-a-half-minutes. Yet there are patterns, which slowly emerge to suggest unifying themes of isolation, loneliness, and the inexorable forward march of time. That journey, of course, ultimately leads to the grave, and death hangs like a specter over these imaginative proceedings. Just as powerful, though, is the cine-affection that Kiarostami expresses throughout, culminating with an Andrew Lloyd Webber-scored celebration of the undying nature of love.
Honorable Mention: Free Solo; McQueen; Monrovia, Indiana; The Road Movie; Hitler's Hollywood; Three Identical Strangers; Shirkers; Angels Are Made of Light; Watergate, Or: How We Learned to Stop an Out of Control President; Divide & Conquer: The Story of Roger Ailes
Nick Schager
Nick Schager is a NYC-area film critic and culture writer with twenty years of professional experience writing about all the movies you love, and countless others that you don't. 
Advertisement – Continue Reading Below
Read More On This At "Paranormal, Ghosts, Hauntings" – Google News